Special Internet Offer expires 8pm
FREE Consultation + 0% Finance
Call (305) 947-7999 now to claim your special Summer Offer before this offer expires at 8:00pm on
You must quote the promotional code below to ensure you qualify for this offer. Promo Code: SUMMER SMILE
Teeth Whitening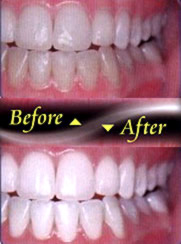 Over time, stains from tobacco, foods, and beverages deposit on teeth, leaving behind yellow or brownish stains. Other factors in tooth discoloration include genetics, medications, and age. Dr. Edderai can remove stains and brighten tooth enamel up to 10 shades with professional, in-office teeth whitening.

The ADA and the FDA recommend dentist-supervised teeth whitening for safe, effective results. As your dentist, Dr. Edderai will evaluate the types of stains, as well as the condition of your teeth to determine whether teeth whitening is right for you. Stains caused by tetracycline and fluorosis often don't respond well to whitening, and damaged or decayed teeth can be harmed by teeth whitening if the issue isn't resolved first.

Our Miami dental office features Lumibrite Chairside whitening for brighter teeth, immediately. This system offers fast, effective and gentle whitening, with no sensitivity, in less than one hour. And It contains fluoride for an even healthier smile. When combined with the Sapphire Supreme Plasma Arc Curing and Whitening Light, the system is clinically proven to whiten teeth in under an hour without the use of harmful UV rays. Lumibrite Desensitizing Gel shields against whitening sensitivity and the Lumibrite After Care kit is available to help patients maintain their healthy, beautifully white smiles (this includes three Lumibrite Home Whitening Gel syringes, custom mouthguard resin sheets, and a case). For more information and to make an appointment call Dr Edderai on 305 947 7999.

As your cosmetic dentist, Dr. Edderai will make your dream smile a reality. Our Miami Beach dental office creates stunning smiles for patients from Miami, Aventura, North Miami Beach, and beyond. Call today to reserve your personal consultation.