Special Internet Offer expires 8pm
FREE Consultation + 0% Finance
Call (305) 947-7999 now to claim your special Summer Offer before this offer expires at 8:00pm on
You must quote the promotional code below to ensure you qualify for this offer. Promo Code: SUMMER SMILE
Bondings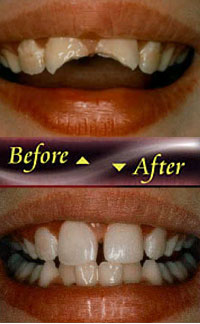 Bonding is a technique we use to repair broken, decayed, or discolored teeth. Using a tooth-colored, composite resin, we can enhance the appearance of front teeth (composite veneers), fill in areas of decay (tooth-colored fillings), or replace old, metal fillings. This conservative treatment can be performed in a single visit to our office.

The first step involves selecting the right shade of bonding material for your smile. With precise color-matching techniques and over 17 years of experience, Dr. Edderai has no trouble blending your tooth shade. Next, Dr. Edderai prepares the tooth and applies a solution that helps the resin bond to the tooth enamel. After applying and sculpting the bonding material, Dr. Edderai hardens the substance with a curing light. Although not as strong as natural tooth enamel, bonding will withstand daily wear and tear. Typically, bonding lasts from 5 to 7 years before needing replacement.

As your cosmetic dentist, Dr. Edderai will make your dream smile a reality. Our Miami Beach dental office creates stunning smiles for patients from Miami, Aventura, North Miami Beach, and beyond. Call today to reserve your personal consultation.